EXPERT: Jurnal Manajemen Sistem Informasi dan Teknologi is a peer-reviewed journal published biannually in June and December by Pusat Studi Teknologi Informasi, Fakultas Ilmu Komputer, Universitas Bandar Lampung.

Presenting articles in the field of Information Systems and Technology, especially the needs of the IT world, implementation of decision-making methods, and the development of the latest Information Technology applications. Focusing on 5 scientific groups in the field of information systems: Information Systems, Software Engineering (RPL), Networks, Multimedia, Security systems, Web and Mobile Technology as well as Artificial Intelligence and Games and is not limited to other information system studies.

Accredited Sinta Rank 4 (S4) from Volume 12 Number 1 of 2022 to Volume 16 Number 2 of 2026. Based on the Decree of the Director General of Higher Education, Research, and Technology - Ministry of Education, Culture, Research, and Technology of the Republic of Indonesia Number 79/E/KPT/2023 concerning the Accreditation Ranking of Scientific Journals for the First Period of 2023.

The published articles have been single-blind and reviewed by peer reviewers. The decision to accept or not accept scientific articles in this journal is the right of the Editorial Board based on recommendations from peer reviewers.

All publications in EXPERT: Jurnal Manajemen Sistem Informasi dan Teknologi are open, allowing articles to be freely available online without a subscription.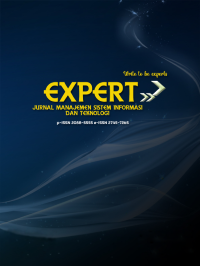 Announcements
Announcement to all EXPERT JMSIT Journal Authors

Dear Colleagues,
We are inviting you, lecturers, writers, researchers, practitioners, graduate students, and scholars of the related fields of studies to participate in the upcoming volume by submitting your scientific manuscripts. The selected papers will be published in Volume 13 Issue 2, December 2023. And the submission deadline for the current issue is September 30, 2023. Articles submitted after that date will still be processed for publication in the next issue. 

Manuscripts can be submitted at any time, with notification within 1 - 2 weeks. Please email: jurnalfik@ubl.ac.id for a faster response. Click here for Online Submission. 

Submission Preparation Checklist
As part of the submission process, authors are required to check off their submission's compliance with all of the following items, and submissions may be returned to authors that do not adhere to these guidelines.

This manuscript has never been published, this manuscript is truly your work.
Manuscript files have followed the template guidelines carefully and are sent in the form of document files, .doc, .docx not others. Template here.
This manuscript is not in the process of being reviewed/submitted in other journals.
You will not send this manuscript to other journals if it is still in the process of reviewing the EXPERT JMSIT Journal. 
You have read and understood the information contained ADDITIONAL MENU.
You have understood the submit guide here.
You have read, understood and agreed to the manuscript withdrawal information here.
Manuscripts are free from plagiarism.
Please write your contact number or WhatsApp number in the comments column of submission to facilitate communication.

We also invite you to JOIN us as REVIEWER or EDITOR to further improve the quality of our publications. For those who are interested, please fill out this form.

Thank you for your willingness.

Best Regard.
Click "More ..." for Indonesia

Posted: 2023-07-11
More...
Vol 13, No 1 (2023): June
In this edition (Volume 13 Issue 1, June 2023), EXPERT presents 11 manuscripts in the field of information technology, especially in application development, machine learning development, and other knowledge in the field of software engineering. These articles come from 37 authors from 10 Indonesian campuses;
Institut Bakti Nusantara (Pringsewu),
Institut Sains dan Bisnis Atma Luhur (Pangkalpinang), 
Institut Teknologi Sepuluh Nopember (Surabaya),
Institut Teknologi Telkom Purwokerto (Purwokerto), 
Universitas Bandar Lampung (Bandar Lampung),
Universitas Dian Nuswantoro (Semarang), 
Universitas Hayam Wuruk Perbanas (Surabaya), 
Universitas Informatika dan Bisnis Indonesia (Bandung), 
Universitas Internasional Batam (Batam),
Universitas Mitra Indonesia (Bandar Lampung).
We thank and congratulate the authors of scientific papers whose papers we accept and publish in this edition. Scientific works in this journal make an important contribution to the development of science and technology. In addition, a number of experts involved in this journal have made invaluable contributions to assessing published papers. Therefore, we thank you.
On this occasion, we invite again and provide an opportunity for researchers, in the field of software development to publish their research results in this journal in Volume 13 Issue 2, December 2023. Hopefully, the papers in this journal can be useful for readers, especially for the development of science and technology in the field of software engineering and technology in general.
Thank you.
Bandar Lampung, Indonesia, June 30, 2023
Table of Contents
Articles
| | | |
| --- | --- | --- |
| | Angga Adetiya, Hanny Haryanto, Erlin Dolphina, Erna Zuni Astuti, Muljono Muljono | 01-06 |
| | | |
| --- | --- | --- |
| | Lina Fatimah Lishobrina, Hanu Handriadma, Arlan Lapiga Bangun Zebua | 07-16 |
| | | |
| --- | --- | --- |
| | Adi Prasetia Nanda, Ahmad Syarifuddin, M. Islam Mahdi | 17-22 |
| | | |
| --- | --- | --- |
| | Ari Kurniawan Saputra, Robby Yuli Endra, Fenty Ariani, Tia Tanjung, Agustan Prakarsya | 23-29 |
| | | |
| --- | --- | --- |
| | Iqbal Ramadhani Mukhlis, Sinarring Azi Laga | 30-37 |
| | | |
| --- | --- | --- |
| | Ari Amir Alkodri, Burham Isnanto Farid, Agus Dendi Rachmatsyah, Ferry Bakti Atmaja | 44-49 |
| | | |
| --- | --- | --- |
| | Chairul Habibi, Reni Nursyanti | 50-55 |
| | | |
| --- | --- | --- |
| | Erlangga Erlangga, Delfita Sari, Angga Saputra, Ayu Kartika Puspa, Yuthsi Aprilinda | 56-61 |
| | | |
| --- | --- | --- |
| | Hendi Sama, Angeline Angeline, Gary Phua, Rahel Rahel, Stephanie Stephanie | 62-67 |
| | | |
| --- | --- | --- |
| | Ummi Ainun Nadhiroh, Erma Suryani | 68-75 |